Florida Nurserymen & Growers Association new headquarters at MetroWest.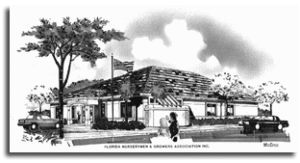 The Florida Nurserymen and Growers Association, the statewide trade association of the Florida horticulture industry, recently decided to invest in a new office building for its headquarters staff. A more centralized location was needed to accommodate the staff's many activities that include communications with members, education, public relations, convention planning, publications distribution and frequent committee meetings. Key factors in FNGA's planning were the construction budget and lease expiration date of existing offices. Selecting MetroWest's planned unit development as the site, FNGA contracted with McCree Architects and General Contractors of Orlando to design and construct the new 5000 s.f. office building.
The FNGA project was a team effort from the beginning, and DAO Engineering is proud to have made significant contributions to the team's success. Our engineering services included site engineering works for paving, grading, drainage, water and sewer services. Specifically related to drainage, a unique grading plan was designed to reroute runoff from a higher, undistrubed area abutting the FNGA property, around the site and into existing drainage systems.
The plan concurred with both the South Florida Water Management District rules and the overall surface water management plan adopted by MetroWest and approved by both the SFWMD and the City of Orlando. DAO Engineering also assisted McCree Architects & General Contractors in the preparation of constructions permit applications to the City of Orlando Building Department and for the project's Certificate of Occupancy.
Florida's water resources management and drainage requirements demand knowledge and professional expertise. Rely on DAO Engineering for planning, design and experience to make your next project a complete success.
Orange County National Golf Center
WATER AND WASTEWATER  TREATMENT PLANTS
Winter Garden, Orange County, Florida 
The Orange County National Golf Center has an area of about 200 acres located in the western part of Orange County and west of Disney World.  The Center consists of a golf training institute, a clubhouse with a golf course, and related support facilities such as lodges, pro studio shop, cart barn, and maintenance building.  Dao Consultants was selected to provide environmental design and permitting services for the Center.
The maximum daily water demand is 170,000 gallons per day.  Two deep wells were designed and developed to meet this demand by installing two pumps each capable of 350 gallons per minute of delivery to a nearby treatment plant consisting of chlorination and a 20,000-gallon hydropneumatic tank. The Wastewater Treatment Plant an extended aeration activated sludge plant with a treatment capacity of 60,000 gallons per day and designed to meet secondary treatment standards with basic disinfection. Effluent disposal is achieved through a series of Rapid Infiltration Basins.