Two teams were victorious at the 1996 Citrus Bowl!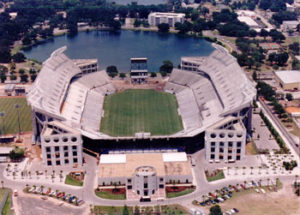 Prior to kickoff and during the first quarter of the 1996 Citrus Bowl Football Game on New Year's Day in Orlando, a heavy rain left water up to 4 inches deep on the stadium's natural turf playing field. But Half Time festivities started right on time – barely 30 minutes later – on dry turf. No spiffy marching bands or entertainers splashing about up to their ankles. And best of all, no Ohio State or University of Tennessee football uniforms muddied by a soggy playing field during the second half. It wasn't the first time DAO Engineering's drainage design for the facility was put to the test, and it won't be the last.
In preparation for the 1994 World Cup Soccer events, the City of Orlando requested our redesign of the playing field contour, as well as an improved field drainage design in anticipation of Florida's torrential summer rains, paying attention to the environmental impact of drainoff into existent surrounding water collection areas.
James Vick, Deputy Bureau Chief for the City of Orlando Public Works Department, advised us that "underdrain and surface runoff systems are performing in an outstanding manner. At a recent heavy downpour, I witnessed a flooded field condition that totally cleared itself of water and was ready to play on in thirty minutes after the heavy rain stopped. I also heard comments from World Cup Officials regarding the field that were very complimentary. "Thank you for a job well done."
DAO Engineering is proud of the contribution to the success of the Citrus Bowl Stadium and so many other significant Central Florida engineering projects since 1970. For drainage, road design, water control, sewers, landscape irrigation with potable and greywater technology, consider our professional team. We have the experience, the personnel and track record to assure the complete success of your next project.